Warehousing Services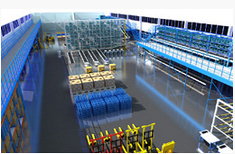 ★Shengcheng International (DLSC) provides secure warehousing in line with national standards. Its 4000-square-meter warehouse can provide the following services
• File and document warehouse
•Office furniture warehouse
•Warehouse of office facility, electric appliance, etc
•Warehouse of other items and goods
• The 4000-square-meter warehouse is equipped with fire protection and security system to secure goods 24 hours/7days.
• Dustproof system: All items are respectively stored in dustproof modules which have been labeled with unique number. Even if they are stored for a long time, they are still safe and clean.
• Label and electronic recognition system: Every item you stored has a label stating your name, loading port, destination, number and total number of packages, and all these information will stored in computer.
• Since every package in the warehouse has a label and its detail information is stored in computer, it is easy to be pinpointed. When you need your goods, we will deliver it to you at express speed.。
• All items, such as furniture and other items which are easy to be abraded, are wrapped with pads to keep from abrasion. Specially made wooden cases are used to protect panel TV set and other electronic products.
• We will arrange full-time service personnel to advise you all the way. Our efficient service will save your precious time.
• We can satisfy you with flexible short-term and long-term warehouse service.
• The uninterrupted warehouse service available 24 hours/7days allows goods in and out anytime.
• Our competitive price will save your daily expenses.
• The warehouse is covered by insurance all year round, further securing your goods
• The clients who cooperate with Shengcheng International (DLSC) in inbound and outbound business can enjoy free short-term storage services.